135 Phrases coined by William Shakespeare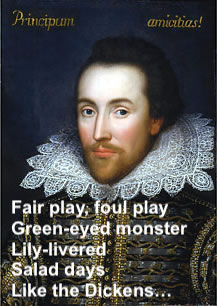 William Shakespeare contributed more phrases and sayings to the English language than any other individual, and most of them are still in daily use.
Here's a collection of well-known quotations that are associated with Shakespeare.
Most of these were the Bard's own work, but he wasn't averse to stealing a good line occasionally and a few of these were 'popularised by' rather than 'coined by' Shakespeare.
See also: A list of words coined by William Shakespeare
Full list of Shakespearian phrases:
Shakespeare's phrases grouped by play: