A foregone conclusion
What's the meaning of the phrase 'A foregone conclusion'?
A foregone conclusion is a decision made before the evidence for or against it is known. Literally, it is a conclusion which is inevitable because the result has been decided beforehand (or 'afore').
What's the origin of the phrase 'A foregone conclusion'?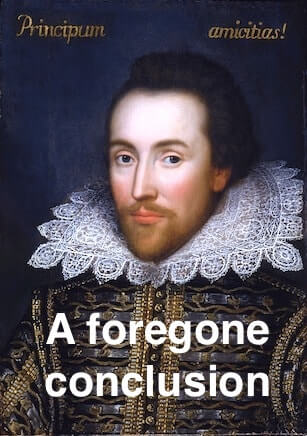 From Shakespeare's Othello, 1604:
OTHELLO:
But this denoted a foregone conclusion:
'Tis a shrewd doubt, though it be but a dream.
What Othello is saying is that he is certain that his lover has been unfaithful to him because his dreaming of it signified that it had already happened - that is, it was 'foregone'. Not evidence that would stand up in court today, but good enough for Othello.
See other phrases and sayings from Shakespeare.